24 giugno 2021
Reading time 4 minutes
Port operators: You need to demand standardisation in terminal automation
Container terminal automation began in the 1990s with the first automated stacking cranes and industrial straddle carriers. Since then, automated solutions have developed to a level of sophistication that could scarcely have been imagined a few decades ago. However, despite all the advances in the field and the dozens of fully automated container terminals around the world, automation still hasn't lived up to its full promise.
Of the container terminals around the world, 60 to 70 are currently automated or are being automated. This figure sounds impressive, until you compare it with the 1,300 or so terminals that are still operating manually. When you add intermodal facilities and various types of logistics hubs to the equation, the ratio becomes even more skewed. With all the proven, obvious benefits of automation, what is holding back all these terminal operators?
Lack of standardisation is holding back industry development.
The answer is simple: Standardisation, or more precisely, the lack of it. With terminal operators unsure of the exact specifications needed for terminal automation deployment, system providers have often needed to "reinvent the wheel" for each terminal. This has made it difficult to integrate all the required subsystems, slowed deployment times, and limited productivity due to a high level of unnecessary exception handling.
The need to build systems from scratch for each customer case has resulted in unnecessarily high investment costs and has made it difficult to gain the intended savings in operating costs. Finally, the one-off nature of terminal automation cases has caused a shortage of qualified personnel to design, deploy and run the solutions.
One-off designs with multiple solutions are a suboptimal approach.
From our decades of experience in terminal automation, there are a few things that we have learned here at Kalmar. Firstly, one-off designs with multiple solutions from different vendors are a suboptimal approach for the industry as a whole. Secondly, automation is not just an add-on to equipment purchases but must be considered as a total solution that encompasses the infrastructure and business processes of the entire terminal.
Automation must be seen as a total solution that covers the entire terminal infrastructure and business processes.
Thirdly, and most importantly, in order to move forward we need true end-to-end automation systems like those seen in other industries. To reap the full potential benefits of container terminal automation, a systemic, standardised approach is required. A key element is the availability of open application interfaces that enable terminal operators to customise their automation deployments, allowing third-party developers to provide offerings that are interoperable with the automation solution.
Once we have an industry wide standards framework for container terminal automation, along with integrated automation platforms with open APIs, we will not only be able to deploy automation systems much faster, but will also gain the benefits of a much wider, open ecosystem that benefits all parties involved.
From the point of view of a solution provider, standardisation and open interfaces hold some foreseeable risk along with the opportunities. What if new, disruptive entrants rise up to challenge us, the market leaders? What will it mean for us if open interfaces will give terminals the option of doing more of their development work in-house?
The benefits of standardisation far outweigh the potential risks.
At Kalmar, we welcome these challenges. We invite more competition, as we believe it will help drive the growth of the entire industry over the next decade or two. We are ready to face the future, and believe the benefits of standardisation and open APIs far outweigh the potential risks.
Standardisation is the only way forward. Industry organisations and groups such as TIC4.0 and PEMA are bringing together a wide range of players to create the standards needed in our field, but they alone can't drive the change. If you – the terminal operators – want to benefit from standardisation, you have to demand it. If we need to discuss the basic connectivity and safety issues anew each time we start to plan a terminal automation solution, there is no way we will be able to deliver the performance and cost savings that you need and deserve.
So make your voice heard. If you ask for it, we will come together to make it happen.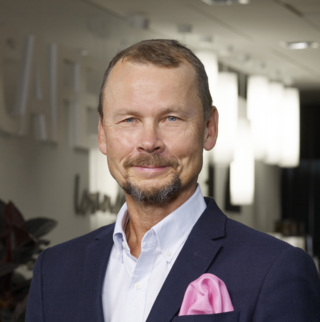 Antti Kaunonen
President, Kalmar Automation Solutions