16 marzo 2017
Reading time 5 minutes
Mr Wu Jian, President of Kalmar's joint venture in China is set to conquer the market
A self-professed workaholic, entrepreneur and passionate football fan, Mr Wu Jian first struck up a partnership with Cargotec's marine business MacGregor some fifteen years ago that eventually led in 2012 to the establishment of a joint venture between Cargotec Corporation and Jiangsu Rainbow Heavy Industries.
Located in Taicang, Jiangsu Province, China, Rainbow Cargotec Industries (RCI) is responsible for the production of Kalmar rubber-tyred gantry cranes (RTGs), ship-to-shore cranes (STSs) and automatic stacking cranes (ASCs), RMG for global markets. The partnership between RCI and Kalmar has evolved through the years and is today the cornerstone of Kalmar's port crane business on a global scale.
"The teamwork and unifying support from Kalmar is something I've always appreciated deeply," Wu Jian says. "Our team is a diverse mixture of global expertise providing us with invaluable insight and know-how in all fields of the industry."
As RCI is a joint venture, certain key elements are essential to a smooth-running operation. "We need to trust one another," Wu Jian says. "In addition, we also need to be flexible. In a joint venture, it's crucial to stay productive and successful in a short time frame."
When asked about his leadership philosophy, Wu Jian explains: "My aim has always been to keep everyone focused on a mutual goal: We need to be on the same page. Only by working together and understanding each other can we be truly successful. Our expertise and experience give us tools to see where the business is heading."
Wu Jian adds, "There is no need for second-guessing – we can simply focus on the execution. This is why all RCI projects have always been delivered on time. High quality, without delay."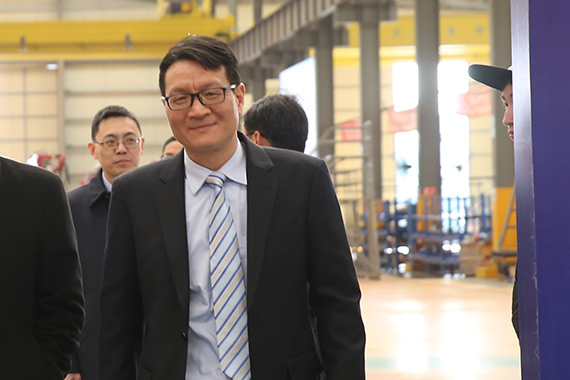 The proof of this philosophy – as they say – is in the pudding. In 2014, when the RTG production was fully ramped up, Kalmar delivered almost 100 cranes. A year later, a total of 111 RTGs were sold with all the deliveries arriving on time and to the full satisfaction of the customers.
"Customer satisfaction is a top priority for us. We always listen and follow their wishes, and deliver all projects in the shortest time possible. Before the joint venture, Kalmar's average delivery time was 12 months. Now, we deliver in nine months without compromise or loss in quality."
2016 marked another milestone for RCI when the joint venture took on responsibility for Kalmar ASCs. In addition, the company is fully capable of taking STS orders, and there are promising signs that RCI will have a chance to test its abilities in this area in the future.
Wu Jian flashes a smile when asked about what makes him proud of RCI. "There are so many things to be proud of! If I must choose just one, it would be our R&D. We're constantly developing new high-quality products and improving the industry by being leaders in new technology. This is critical for Kalmar and RCI, and our leadership in the port crane business. In the next few years, we will also focus on automation solutions, not just machinery."
"Customer satisfaction is a top priority for us. We always listen and follow their wishes, and deliver all projects in the shortest time possible."
Another bright spot in RCI's near future is a brand new jetty, which opened in March 2017, in Taicang. A direct access to the Yangtze River brings multiple benefits: logistical flexibility and delivery of fully assembled shipments to the customers.
"Automation plays a big part in meeting our customers' needs," Wu Jian adds. "The jetty, together with Kalmar's state of the art test facilities in Tampere, Finland and RCI's own test yard in Taicang, allows us to do pre-commissioning of all our automation deliveries, so our customers can be at ease in the knowledge that the cranes and related automation processes are tested and operation ready in advance."
Mr. Wu Jian has a reputation for being a hard worker and his devotion to improving RCI certainly serves as a testament to this. His devotion is such that he is rumored to catch only a few winks of sleep between days at the office. When asked what he does in his spare time, Wu Jian's response is quick and enthusiastic: "Football! It clears my mind of everything. I started playing football in my university years, and still play whenever I can. In Nantong, we invite teams from other companies and hold an annual football tournament called the Rainbow Cup."
Favorite team? "FC Barcelona. And the best player in the world is Leo Messi, of course!"
Eat your heart out, Ronaldo.